I received the Spirit of Golf award from the Golf Foundation this afternoon at Carnoustie, it was a fantastic honour and very nice of them to think of me.
I took part in a few games with some children who were invited along, which was great fun as was the short Q&A with them.
Marian and I have always tried our best to give back as much as possible so awards like today mean the world to us.
We had a tour of the TV compound before heading up the road for a dinner in Aberdeen this evening.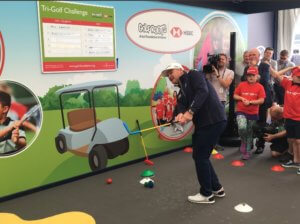 It's all go but good to be busy!