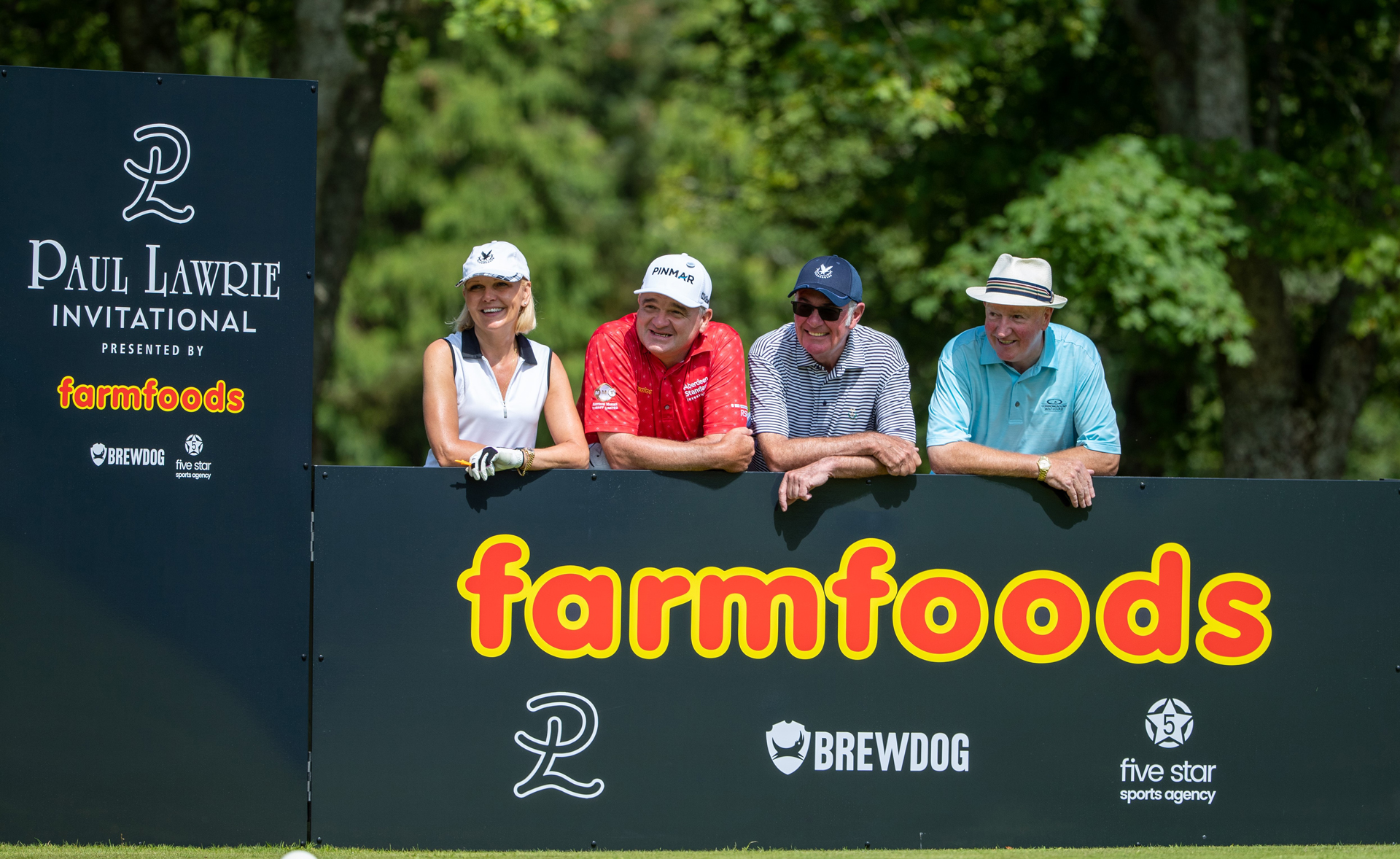 The inaugural Paul Lawrie Invitational took place at Gleneagles in 2019.
Raising monies for three charities – Paul Lawrie Foundation, My Name'5 Doddie Foundation and The Beatson – this Pro-Cel-Am event sponsored by farmfoods involved 2 amateur guests plus a celebrity amateur teaming-up with a European Tour Professional. The day's golf was followed by an evening gala dinner and entertainment.
After a break for the Covid years, the Invitational returned with the ProAm held at Carnoustie in '21 and '22, raising funds to support the work of Paul's Foundation.
Prior to the new format for the PL Invitational in 2019, the event had previously been a 54-hole tournament for PGA Professionals playing on the Tartan Tour circuit and involving some other Professionals from European, Challenge and Seniors Tours.
2015 – Winner: Paul McKechnie
Paul McKechnie produced some incredible golf over the three tournament rounds to get to -18. He followed-up on his opening round of 64 with a course record of 62 (-8) before carding a final round 66. His final total was four better than his closest competitor, Paul O'Hara.
Scoring for this year's Invitational was much lower than it has been in the previous four years that the event has been staged. Conditions during the first two rounds were almost perfect, with little or no wind and receptive greens that were in beautiful condition. There was a little more wind to test the golfers on day three and it felt a little cooler, so it was to be expected that scoring would not quite reach the levels it did in the opening two rounds (almost half of the field on day one were under par).
3 amateurs finished within the top ten this year and of the six who teed-off on Tuesday, 5 survived the cut and finished the event on Thursday.
Behind McKechnie (Braid Hills) & O'Hara (Clydeway), Greig Hutcheon (PLGC) finished in a tie for 3rd place alongside Michael Stewart (Troon Welbeck) and Jason McCreadie (Buchanan Castle), who had begun the final round on 11 under par slipped back to 5th place on -9, alongside Southerness amateur, Scott Gibson.
Sponsors: Aberdeen Asset Management, Farmfoods, Saltire Energy, Simmons & Co., Statoil.
2014 – Winner: Greg McBain
The 4th staging of Paul's Invitational at our host venue, Deeside Golf Club, saw the event become part of the Tartan Tour's Order of Merit for the first time and, with that, the prizefund increase again by 5k.
72 Professionals teed the ball up on Tuesday, amongst them Kenneth Ferrie, Steven O'Hara, 2012 Champion Greg McBain and Paul's elder son, Craig, playing in the event for the first time as a Professional.
Scheduling changes meant that Paul missed his own event for the first time but he was on hand to welcome the guests of the six event sponsors – Aberdeen Asset Management, Farmfoods, Hunting, The Marcliffe Hotel, Saltire Energy and Simmons & Company.
Led by Steven O'Hara as their Professional, Alan Reid and his guests Alan Morrison and Innes Mair overcame the damp conditions to produce a 16 under par total of 124 – good enough to win by a couple of shots from teams from The Marcliffe and Farmfoods. In the Invitational event itself, Greg McBain, a Foundation supported Professional, led the way with a brilliant 64 in Round 1. The course at Deeside was playing tough – being soft on the fairways due to the wet weather and the rough penal, putting a premium on straight hitting.
Greg was the man the chasing pack had to catch from the off and his fighting level par second round 70 meant that challengers were plentiful. A second round 65 from Paul Robinson of Largs placed him right in the mix and Craig Lawrie followed-up his opening one-under par round with a 67, for minus four.
Also putting pressure on McBain was Graham Fox. Fox, Lawrie & McBain had been paired together in the first two rounds and whilst Graham and Craig were rolling in the birdies, Greg was battling a little to stay on par. Fox made 4 birdies on the bounce, only to bogey the 18th and take a step back to -4.
2014 Scottish Young Professionals Champion Gavin Hay finished his first 36 holes on minus 4 but was to make a big move during the final round. His 64 was equal best of the tournament and allowed him to post a 10-under par target. The challenge of Paul Robinson faltered as he could only manage a 75 and Fox 's 73 meant that the challengers were falling by the wayside.
Craig Lawrie carded a solid 69 for -5 alongside Keir McNicoll (Gullane) and Chris Currie (Caldwell) to tie for 4th place.
2013 – Winner: David Law
The third edition of my Invitational took place again at our host venue, Deeside Golf Club, between 17 & 19 September. The Haughton Course was in super condition, despite the wet spell of weather immediately before we arrived for our Monday Sponsors' Pro-Am. And the good weather during the Pro-Am saw the golf course presented in its best light. I played the first two rounds with defending Invitational Champion, Greg McBain, and the 2013 Young Professionals Scottish Champion, Paul O'Hara.
The whole event is very relaxed but is designed to allow up-and-coming guys to get the chance to play and test themselves against some more experienced campaigners (like Andrew Coltart and myself) so it was good to play alongside these guys. David Law, one of our Foundation Professionals, led the way after the first round following his four-under par 66. I was a few back after an opening 69. In round 2, I again shot 69 (-1) but David blew the rest of the 66 man field out of the water, following his first round score with a 64 to be minus 10 for two rounds. At the end of the second day, Paul Shields was nearest to David with 4 shots back on 4 under. After two really good days of fine weather (3 if you include the Pro-Am) things turned for the worse on Thursday and heavy rain descended upon us for the majority of the final round.
For one reason or another (but mainly because my putter began to work) I scored much better in the last round. My 64 tied David for the best round of the week and got me closer – but not close enough – to him. Huge congratulations to David on his wire-to-wire win. He was able to close out with a one-under par round to finish on 11 under and three better than my total. Thanks to the continued sponsorship of the Invitational by our 5 key Sponsors, we were able to increase the Tournament purse by £5k to £35,000 this year – so a nice pot for the guys to play for and the £6k first prize one of the biggest on offer for the Scottish PGA Pros all year.
David Law (Paul Lawrie Golf Centre) 199 (-11) 66 64 69
Paul Lawrie (Carnegie Club) 202 (-8) 69 69 64
Graeme Brown (Montrose G.L.) 204 (-6) 67 68 67
Stephen Gray (Hayston G.C.) 205 (-5) 69 67 69
Paul O'Hara (Clydeway Golf) 206 (-4) 68 68 70
Without the support of our Invitational Sponsors (Aberdeen Asset Management, Farmfoods, Hunting, The Marcliffe Hotel, Saltire Energy) we could not play for such a healthy prize fund. So the pre-Tournament Pro-Am is an important part of the week and a nice way for the Professionals to say thank you to them. It was one of my own teams, the guys I invited from Intermoor along with Foundation Professional Philip McLean, that came out on top.
1st – Team Intermoor 56 (-14) BIH
R-Up – Aberdeen Asset Management 56 (-14)
A huge thanks from Marian & I to everyone at Deeside Golf Club, our sponsors and The PGA for making the 3rd Paul Lawrie Invitational a success. And many congratulations again to David Law on yet another Professional title!
2012 – Winner : Greg McBain
The 2012 Invitational was played in September the week before the Ryder Cup so it was perfect for me to sharpen up my game prior to heading to the States.
Greg McBain (Gamola Golf) was a worthy winner, shooting 68 in the final round to finish one shot ahead of Gareth Wright (West Linton)
Greg McBain – 67,68,68 – 7 under
Gareth Wright – 68,67,69 – 6 under
Paul Lawrie – 70,68,67 – 5 under
Paul O'Hara – 71,66,68 – 5 under
Robert Arnott – 72,65,68 – 5 under
David Orr – 70,70,66 – 4 under
Chris Kelly – 69,69,68 – 4 under
Graham Fox – 69,69,68 – 4 under
Greig Hutcheon – 68,66,73 – 3 under
The Pro Am was a great day again and the home team of Deeside Golf Club (Neil Harper, Alan Gall and Duncan Skinner) with Scott Henderson as their pro claimed the title.
2011 – Winner : Andrew MacArthur
Andrew MacArthur was the winner of the inaugural event following a mammoth 6 hole playoff with European tour regular Kenny Ferrie.
Andrew MacArthur – 70,62,67 – 11 under
Kenneth Ferrie – 67,65,67 – 11 under
Paul Lawrie – 70,65,65 – 10 under
Ross Cameron – 68,68,67 – 7 under
Malcolm Issacs – 68,73,64 – 5 under
Mark Kerr – 67,65,73 – 5 under
Greg Hutcheon – 68,68,70 – 4 under
Graeme Brown – 70,65,71 – 4 under
Stephen Gray – 70,70,67 – 3 under
David Law – 68,73,67 – 2 under
Andrew also won an Abel watch presented by Finnies for lowest round of the tournament – 62
20 teams took part in our first Invitational Pro-Am and Deeside was basking in sunshine.
Winners – Farmfoods
Runners up – Saltire Energy
3rd Place – Aberdeen Asset Management