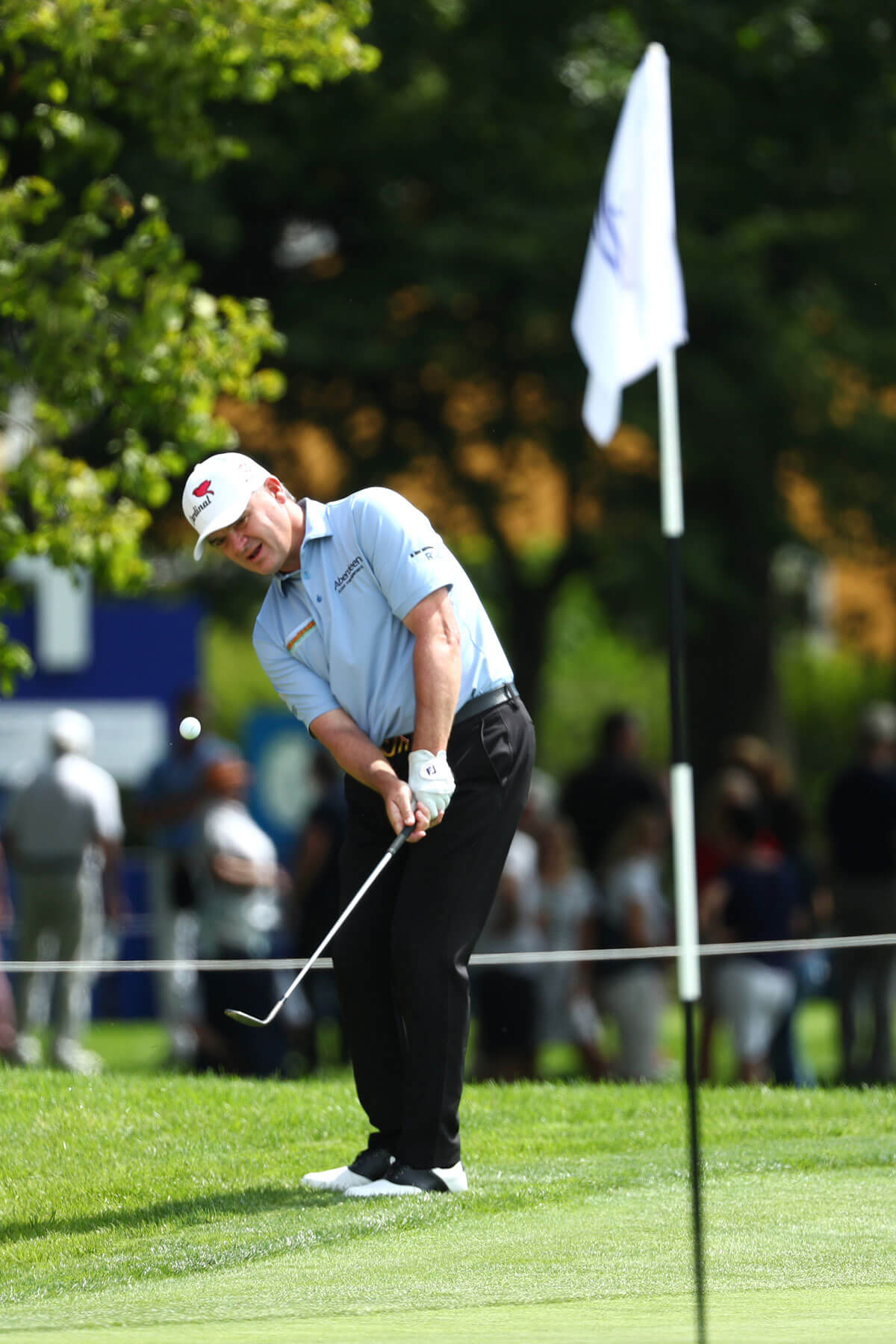 ABERDEEN ASSET MANAGEMENT SCOTTISH PAR 3 CHAMPIONSHIP
The Paul Lawrie Golf Centre in Aberdeen is situated by the banks of the River Dee, just a couple of miles from the city centre.
Not only do we have a fantastic golf range & short-game facility but our 9-hole, par 3 golf course (The Devenick) is a really challenging lay-out with holes ranging in length between 90yds – 230yds. It has a blend of water hazards, good bunkering, challenging greens; in short, it has everything a good golf course ought to.
Not a lot of people were aware of how good it is and I really believe that this particular shortened form of the game has an important place in helping to grow the game and allowing more people the chance to experience our sport – a good Par 3 course can, for example, be the ideal starting place for kids to try golf, it suits a lot of 'senior' golfers and is brilliant for honing short-game skills and accuracy. We wanted to show-off the quality of the course at our facility and back in 2015 I decided to host a small event involving around 30 Professionals (from various different tours – European Tour/Challenge Tour/Ladies European Tour/European Seniors Tour) and a number of the Foundation's leading young amateurs. It was a success and acted as the fore-runner to the much bigger event we staged this year as it helped us to work out the best format for the Aberdeen Asset Management Scottish Par 3 Championship.
In late August, 54 Professionals each teamed-up with an amateur partner for the inaugural Scottish Par 3 Championship. With main sponsorship support from Aberdeen Asset Management as well as the R&A, VisitScotland and Farmfoods, plus a host of local businesses being involved, the Golf Centre was transformed in to a mini-tour venue. Held over the course of two days, participants played round the 9-hole circuit twice each day with Pros recording an individual score and a better-ball score between the Pro & his/her amateur partner counting towards the team result.
Again, we invited a mix of Professionals from a variety of Tours and it was brilliant to be able to have the likes of Michael Campbell, Scott Jamieson, Alastair Forsyth and Kelsey MacDonald competing, to name a few. I played alongside Michael in the first round and it was nice to hear his positive feedback about the course, the format and the Golf Centre itself. It was also a lot of fun!
In the end it took a play-off to determine the outcome, with Bathgate's Louis Gaughan making a birdie on the first play-off hole to earn him victory over Alastair Forsyth, who had led the field after the first round.
The Championship was really well received and I had so many good comments about it in the weeks after the event. We're already looking forward to the 2018 edition which will take place in the middle of June.